600 hp under the bonnet
Pure adrenaline in the middle of a breathtaking natural landscape.
Drive a Pistenbully: High-horsepower adventure on the glacier in Tyrol
When the ski day on the Kaunertal Glacier is already coming to an end, the Pistenbully team is just getting started. It's time to make sure the snow conditions are perfect again with the help of the mighty snow groomers. Eight tons of weight and an impressive 510 hp are packed into these power packs that can master almost any steep slope.
Want pure adrenaline? Then get behind the wheel yourself: experience the special thrill of driving a snow groomer yourself on one of the most impressive glaciers in Austria.
The details: Pistenbully driving on the Kaunertal Glacier
Driving a snow groomer yourself is possible in some places in Austria – but rarely as impressive as on the Kaunertal Glacier in Tyrol! In addition to the excitement of driving the snow groomer, which weighs several tonnes, there is also the impressive height and a spectacular view. Look forward to a unique driving experience in the powerful yet agile PB 600 Polar!
All information about snow groomer driving at a glance:

Appointments: By reservation at 4.00 p.m., throughout the winter season
Meeting point at the Weißsee Glacier Restaurant
Programme: After the theoretical introduction, you will drive independently under the guidance of our experts in snow groomer (duration approx. 1 hour). As a souvenir, you will receive a Pistenbully driving licence and a T-shirt.
Price: € 300,- (includes the car toll for the ascent via the Kaunertaler Gletscherstraße)
Registration: at least one week in advance to Mrs. Carmen Schuler at kaunertal@tirolgletscher.com or +43-5475-5566
Important information: Participants must be of legal age to drive the Pistenbully themselves. Please do not forget to wear warm clothes and solid shoes (no ski boots)!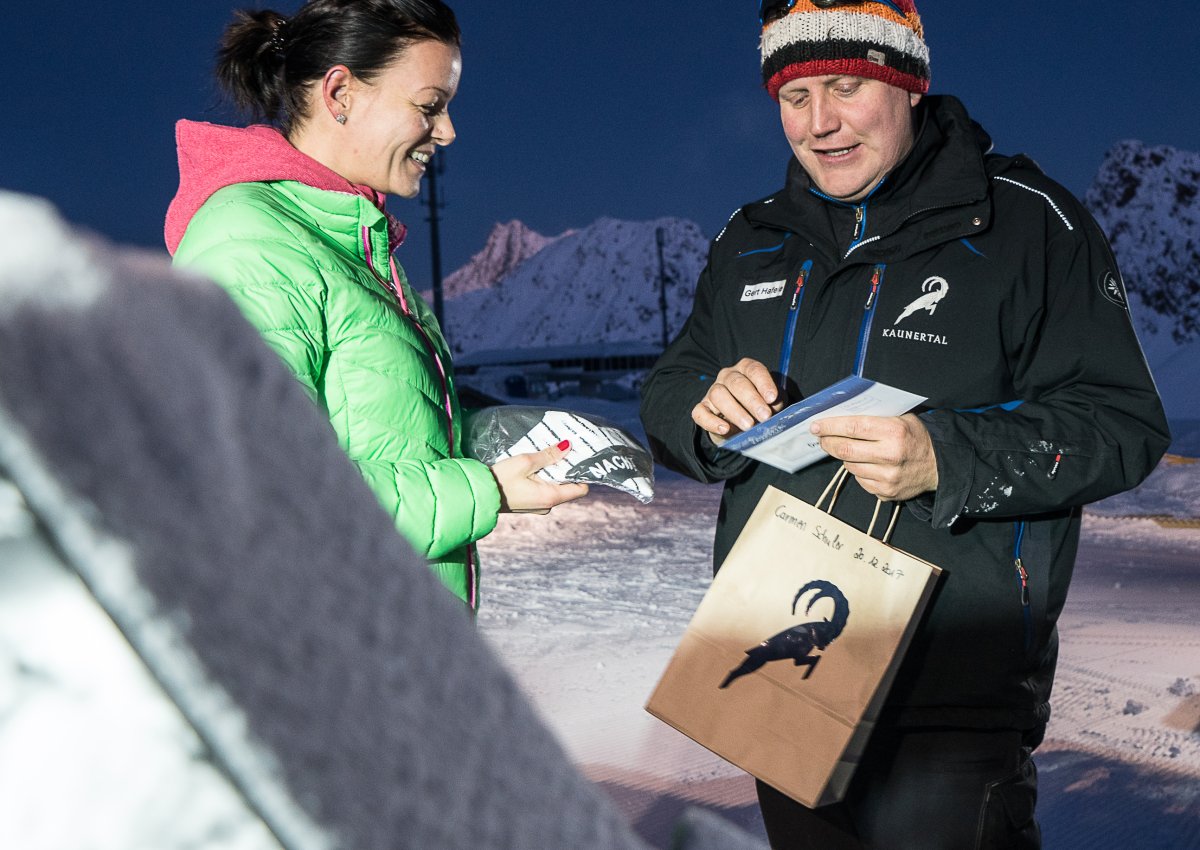 Driving a snow groomer yourself
Take a seat behind the wheel of the Pistenbully and experience at first hand the unique feeling of driving the machine, which weighs tonnes, with ease over the steepest slopes and roughest terrain. After you have gone through the basics with the snow groomer professional from the Bergbahnen Kaunertaler Gletscher, you can drive the snow groomer yourself.
Get your voucher for snow groomer selfdriving now!
Driving a Pistenbully by yourself is a unique adventure – and the perfect gift: for adrenaline junkies and fans of big machines, but also for all those who want to see and experience the glacier at blue hour in a completely different way. In our online shop you can buy your voucher directly and personalise it with a greeting message: